The project already has the support of individuals and major businesses who are providing pro bono support to help bring the project to life.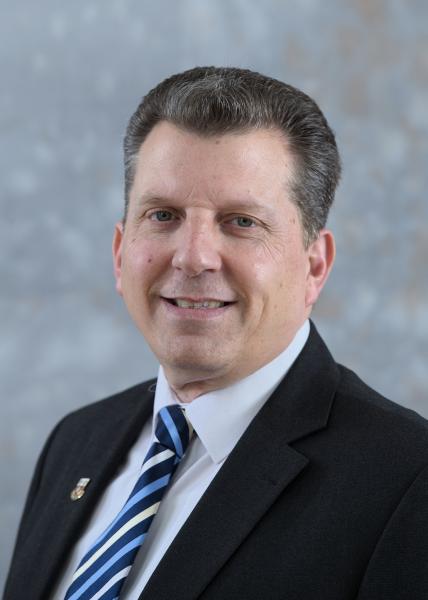 Trustee
John M Hannides
Having served as a Southampton City Councillor for 29 years (1994 – 2023), John played a major part in raising awareness and boosting the region's resources for aviation heritage. He also led the formation of the Cultural Development Trust, to support maritime history and the arts.
"It's a privilege to play a part in bringing this international landmark to Southampton, the home of the Spitfire. I'm delighted the Government has backed the project as the UK's monument to the men and women who built, flew and maintained this iconic aircraft. The Spirit of the Spitfire stands tall as a beacon of hope, courage and engineering excellence. Virtues that are as relevant today as they were in Britain's 'darkest hour' during the Battle of Britain in 1940."

Partner
Southampton City Council
Southampton City Council have supported the Spitfire project with the allocation of land along the city's waterfront with the monument being a centre-piece of a multi-million pound waterfront development. The Council has also confirmed its commitment to allocate up to £0.5m to fund specialist project management support including ground works and site investigation works.

Partner
HM Treasury
The Government has given a grant of £500k and pledged a further £2.5m in match funding for the monument, meaning they match every £1 donated from others up to the value of £2.5m.

Partner
Evolution5
Evolution5 supports a number of charities and provides sponsorship to sports teams and athletes who are based in the region. Therefore when Cllr John Hannides of the National Spitfire Project approached us about this exciting and challenging project we jumped at the chance to provide our complete Project Management services free of charge.
The project resonates with us as a Company but also with individuals within our team who have close family connections to the building of the Spitfire. We truly believe that it is an amazing opportunity to be able to contribute to something that means so much to the City of Southampton, where the Spitfire was designed, built and took its first flight all those years ago.
We are honoured to be part of such a dynamic team of individuals and organisations whose expertise is being kindly donated to a truly remarkable icon of innovation, courage and hope, that still warms the hearts of many who are lucky enough to catch a glimpse of her flying overhead.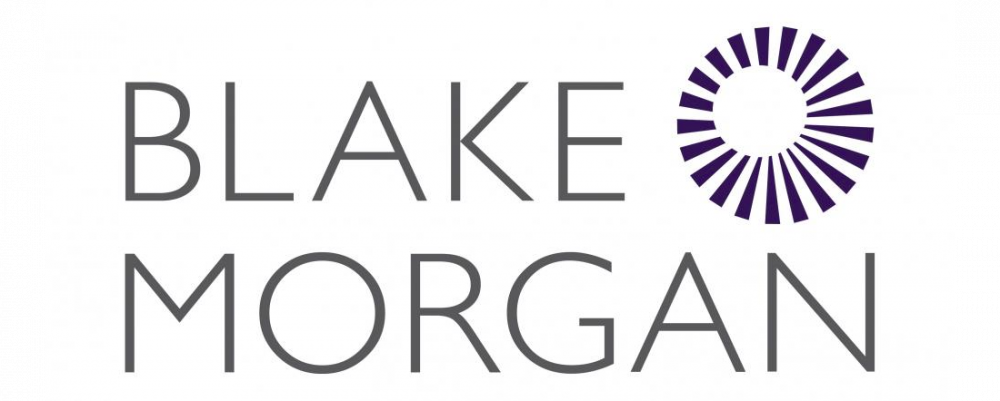 Partner
Blake Morgan Solicitors
"The decision to provide legal services to the National Spitfire Project on a pro bono basis was an easy one for us. When we met with Alan and John to hear more about the project, it was clear that the team had the required clarity and passion to deliver a tribute to a machine that evokes so much passion in us all. When the Spitfire is mentioned it stirs in all of us a sense of ownership and pride and we certainly wanted to be part of the team to deliver that.
Whilst the tribute will stand on Southampton waterfront, it is the fact that it is a tribute for Great Britain which caught our imagination. This links with our firm's ability to provide legal services beyond the Southern region, to all areas with a connection to the Spitfire. We are privileged to be working on this project with such an enthusiastic team and we shall look forward to the day she flies permanently over Southampton water."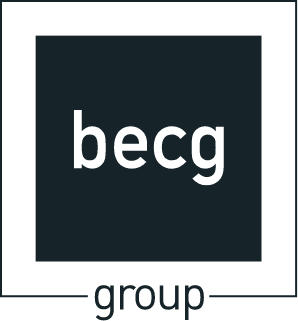 Partner
BECG
BECG is excited to come on board to provide John and the team with PR and marketing support to promote the next phase of fundraising that will help bring the Spitfire monument to life. As local built environment experts with a passion for the city in which we work, we're honoured to be a part of delivering not only a highly anticipated regeneration project for Southampton but also a spectacular monument that celebrates the true spirit of the Spitfire in no better place than its home city.

Partner
The University Of Southampton
"The University of Southampton is delighted to support the "Spirit of the Spitfire" monument. As a proud civic partner to the City of Southampton, we recognise the importance of commemorating the contributions made by the people of Southampton to the design of this iconic aircraft, and particularly the human cost of ensuring its manufacture during a time of national crisis. The staff and students of the University look forward to contributing to the project in a wide variety of ways, including technical support and contributing to the project's outreach." Prof. Mark Spearing, Vice-President Research and Enterprise.
Partner
MindWorks Marketing
We heard about the National Spitfire Monument from our client, Rolls-Royce Motor Cars. As a local company, it is part of our ethos to engage with local organisations and for us, it was an easy decision to get involved with the National Spitfire Project, providing public relations support on a pro bono basis.
All organistations have marketing and public relations objectives that they want to achieve; a nascent charity is no exception. It is our job to help turn these objectives into a reality with fresh ideas and effective support. Success is what we are here for.
With the National Spitfire Project we are raising awareness, developing marketing material, managing their digital footprint and developing their brand. We have 30 in-house specialists, including digital developers, creatives, account handlers and a production department that are all focused on delivering the right work at the right time.
Our offices by the sea on the South Coast gives us a peaceful environment that allows us to focus on delivering the best work possible for our clients.
MindWorks - together we make it happen every single day.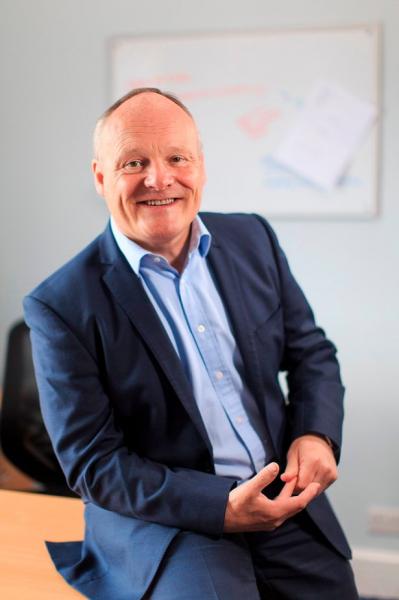 Trustee
Royston Smith GM MP
"The iconic Spitfire was instrumental in defending our country during WW2 but particularly during the Battle of Britain. This country and our lives would have been very different but for the heroism of the young pilots who bravely took to the skies in R J Mitchell's magnificent feat of engineering. We are proud to call Southampton the home of the Spitfire and I am grateful to the Government for trusting us to deliver this project and for supporting it by match funding donations with £3m from Treasury."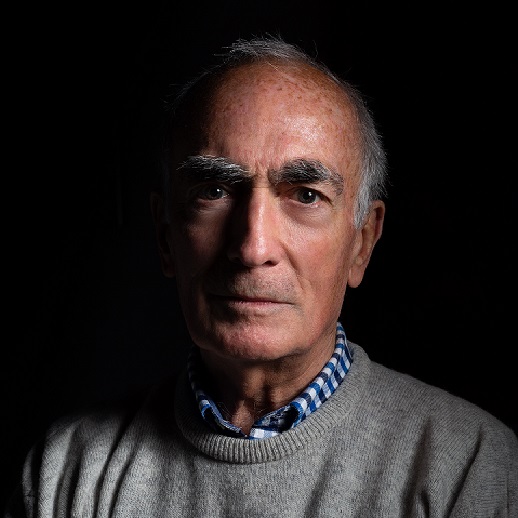 ACE
Air Marshal G A 'Black' Robertson CBE BA FRAeS FRSA
The son of a decorated Spitfire ace, 'Black' Robertson joined the RAF in 1963, quickly acquiring a nickname that's remained with him ever since. After three years at the RAF College, Cranwell, he spent more than three decades in flying, command and staff appointments; these included tours of duty in the USA, Germany and the Falklands. He flew all the RAF's front line fast jet aircraft and latterly qualified as a helicopter pilot. Five tours as a Whitehall warrior were doubtless penance for the privilege of command at almost every level.
Black regards his tour as OC No 92 Squadron, a unit with a proud Battle of Britain history, followed by his appointment as an ADC to HM The Queen, as the high spots of a career where he logged more than 3,600 flying hours. On leaving the RAF he continued to work at the highest politico/military level, first with British Aerospace (later BAE Systems) and subsequently through his own consultancy businesses. After a period as Clerk to The Honourable Company of Gloucestershire, a county-based quasi livery company, he became a trustee of the David Vaisey Library Prize and a Cranfield Trust mentor.
An occasional radio and television commentator, Black began writing in part by way of homage to his father, Flight Lieutenant Ron 'Robbie' Robertson DFC, who served with both 111 and 72 Squadrons. Robbie's own flying career came to an end in Tunisia at the hands of Erich Rudorffer, one of the Luftwaffe's finest Experten. Credited with some 220 victories, he ranks seventh in the German air combat hierarchy. Robbie managed to damage Rudorffer's aircraft in a head-on engagement but lost an eye as a result. He'd been privileged to fly with some of the RAF's best known Spitfire aces, amongst them Brian Kingcome, 'Ginger' Lacey, Jamie Rankin and Bob Stanford Tuck. When he died in 1999 he left a legacy of Spitfire memorabilia that sparked Black's writing career. His first book, Fighters in the Blood, was published in 2020; the prequel, A Spitfire Named Connie, followed two years later. He continues to write and lecture on aviation matters, notably the Battle of Britain.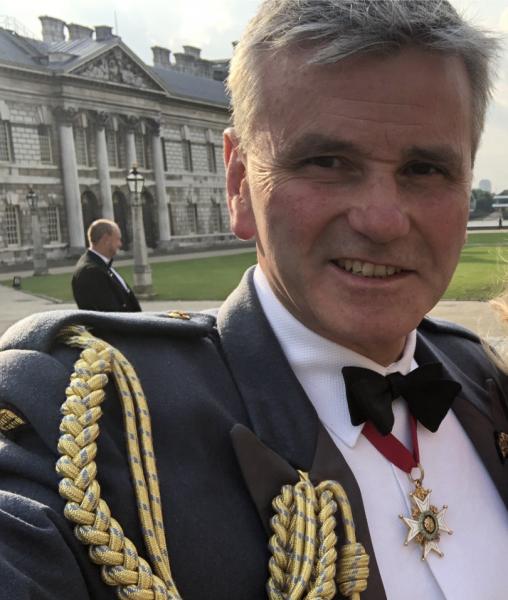 ACE
Air Marshal Turner
Air Marshal Turner is delighted to be a National Spitfire Project 'Ace'. He was the Royal Air Forces' previous Deputy Commander responsible for 'the future' - tracking tech, studying the enemy, spotting threats, adjusting methods, buying equipment, preparing people, upgrading our bases and transitioning to a digital service that will be NetZero by 2040. Prior to this he served in the MOD, Pentagon and White House, commanded at every rank and was a combat helicopter pilot, with 5100 flying hours, on 92 types of aircraft on 19 combat operations.
Shot at and hit 6 times, he is a trained parachutist, plays polo, rows at Henley, has two unruly Jack Russell and feels half his age.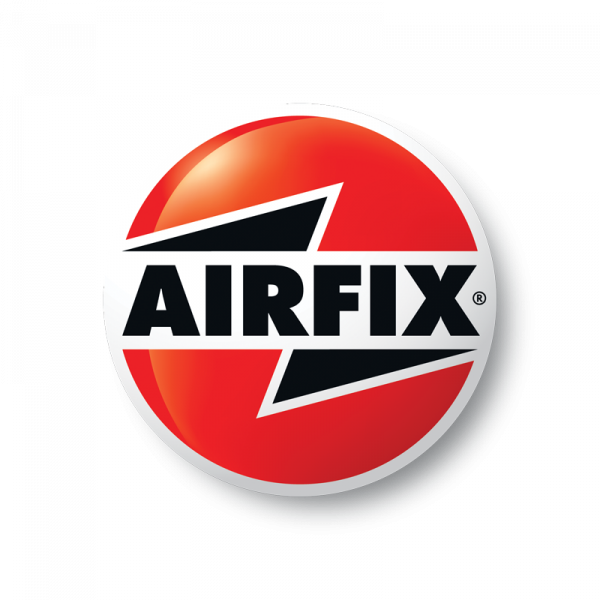 Corporate ACE
Airfix
Airfix is a passionate creator of scale plastic model kits and they've been producing them for the mass market since 1952. It may come as no surprise that the first aircraft kit ever produced by them was a model of a Spitfire in 1955 – the start of a long line of model Spitfires to be made by Airfix. The most recent model, a Mk IXc in 1/24 scale was launched in November 2022.
Airfix was a natural partner for the National Spitfire Project, and we are excited to be working together on new projects to fundraise for the monument.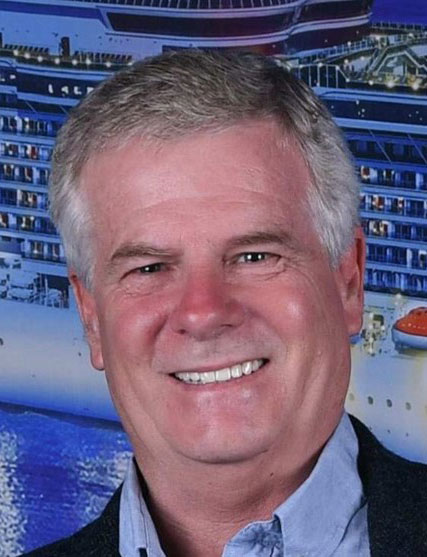 Trustee
Grant Harrison
Grant is a South African entrepreneur and currently the Managing Director of Majengo Ltd, a Director of Missionkraft Ltd., and previously Board Director of the British Powerboat Racing Club in Cowes He emigrated from South Africa to the UK in 2004, now living and operating his business from the Southampton area. He is well known locally in Business Solent, Isle of Wight and in London, for his business endeavours in both the Construction and Marine sectors.
As an ex-military man, Grant is an active member of the South African Legion (part of Royal British Legion), as after completing tertiary education in electronic engineering, he joined the permanent force in the South African Navy
He was instrumental in developing links with India, as a Board Director of the Solent India Business Network with Southampton University
Grant was recently awarded Freeman of the City of London, after being nominated by Hampshire County Council and Sir John Cass Foundation (Cass Business School) in London, for his contribution to promoting UK business both in the South of England and Internationally
Grant is the Past Chairman of the Institute of Directors (IOD) for Hampshire and IoW, and currently is an IOD Ambassador for the South/South East, and is a past Treasurer and a Fellow of the Chartered Management Institute
Having raced for over 40 years in most offshore classes, circuit formulas and Thundercats, he has been awarded South African Springbok colours on 2 occasions representing South Africa in World Championships, and representing UK in 3 World Championships
Trustee
Jamie Barrett
Jamie is the founder and managing director of Evolution5 Construction Limited and Epiphany Developments Limited. He started Evolution5, a property & construction consultancy in 2007, and Epiphany a development company in 2015. Prior to establishing Evolution5, Jamie worked for some of UK's top construction companies, including Balfour Beatty, Mansell Construction, Carillion Building and Tarmac Construction.
Jamie is a Chartered Project Management Surveyor with over 22 years' experience of working in the construction industry.
He has also held the role as a Trustee of the Chartered Institute of Building, a registered charity established in 1834 that has over 44,000 members. Jamie has had extensive involvement at both local, national and international levels of the organisation. Jamie is also an active member of the Royal Institution of Chartered Surveyors and the Association for Project Management.
He has worked on a variety of projects for both private and public sector clients across education, health, industrial, commercial, defence and residential sectors.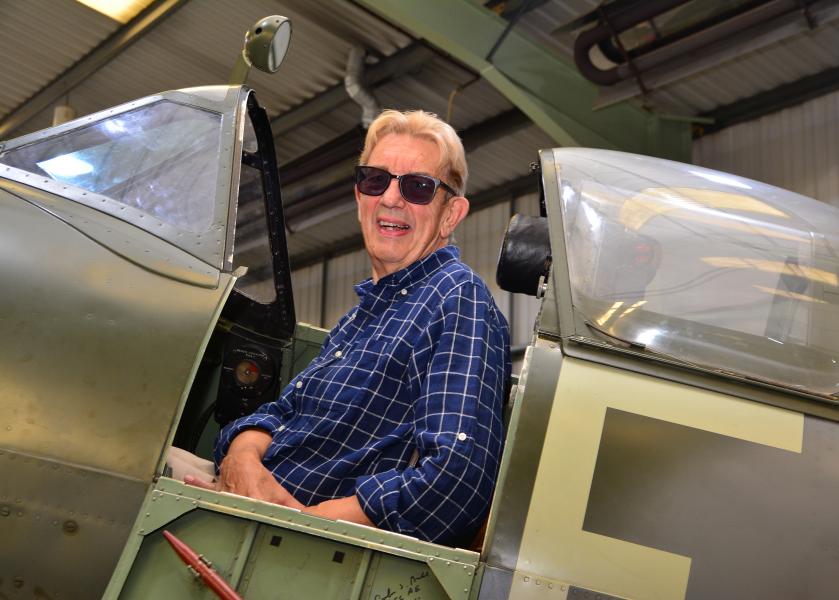 Trustee
Paul Beaver FRAeS VR
Paul Beaver is very much a hands-on historian with a pilot's logbook which includes the Spitfire, Harvard and Mustang. He regulars flies the family Cessna and is an authorised civilian and military flying display director. He is a licenced battlefield guide and an acknowledged expert on the Spitfire, the Battle of Britain, the Dambusters raid, naval aviation and current operations.
He has written more than 70 books, including, Spitfire Evolution, which covers all 72 variants of the Spitfire was published on 5th March 2016 to coincide with the 80th anniversary of the maiden flight of the Type 300 which became the Spitfire. He is now working on the Biography of Eric (Winkle) Brown and has completed the first volume of aviation-related cocktails for St Clement-Danes, the central church of the Royal Air Force.
Paul's charity work, besides the National Spitfire Project, includes being a Trustee of the Army Flying Museum and the Billy Fiske Foundation which remembers the first American pilot to die in the Battle of Britain. He is a member of the Aeronautical Heritage committee of the Royal Aeronautical Society. Other memberships include the T E Lawrence Society, the Royal Air Force Historical Society and the Battle of Britain Historical Society.
Paul is a Member of No 601 Squadron, Royal Auxiliary Air Force which traces its history back to before the Battle of Britain. Previously, he had been an
army aviation reservist, retiring in 2013 with the rank of Colonel. From 2014-16, he was Chairman of No 1010 (City of Salisbury) Squadron of the Air Cadet Organisation and retains a strong interest in net zero aviation and education. He leads a series of study days and residential courses on the Spitfire, Biggles, Cecil Lewis and Double Agents for Andante Travels.
Well qualified as a pilot and historian, Paul spent 15 years directly linked to Jane's including Publisher & Editor-in-Chief of Jane's Defence Weekly. He made JDW into a household name in 1990 through his broadcasting during the Liberation of Kuwait and eventually became a freelance war correspondent for Sky News and a studio 'expert' for BBC News and CNN International, for whom he jointly presented the 50th Anniversary of D-Day (from Normandy), VE-Day (from Moscow) and the Hong Kong Handover. He still contributes to broadcast outlets and documentaries.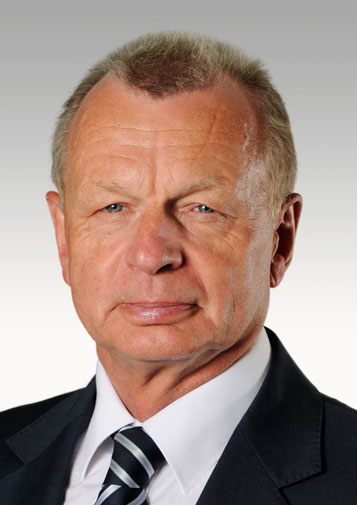 Trustee
Paul Lester CBE | Chairman of McCarthy Stone, Readypower, Marley, FirstPort and Apello. Former Chief Executive of VT Group plc
"I'm delighted to support the Spitfire monument in the city of Southampton. The Spitfire inspired a nation and we hope the monument will inspire a nation to honour its history and inspire future generations to never forget the significance of this awe inspiring aircraft."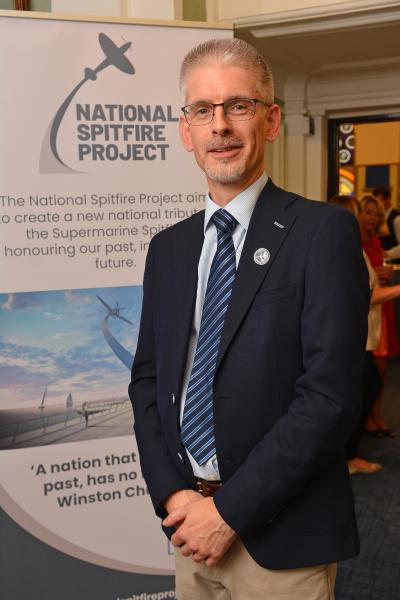 ACE
ROB DAY MRAeS
Rob has spent over 25 years working as a scientific civil servant, providing evidence for government decisions using skills in engineering, mathematical modelling, and people- and project-leadership. During his career he has led teams of up to 20 STEM professionals and continues to mentor junior staff in their development, whilst overseeing significant aspects of major industry programmes and providing direction to research studies and test & evaluation capabilities.
An early interest in historic military aircraft, the Spitfire in particular, inspired Rob to study aeronautics & astronautics at the University of Southampton. Having worked at Biggin Hill and Farnborough, locations rich in aviation heritage, Rob is happy to have subsequently returned to the Southampton area and made it his home. With a strong interest in photography, aircraft in particular, Rob truly considers the Spitfire to be an indelible part of himself.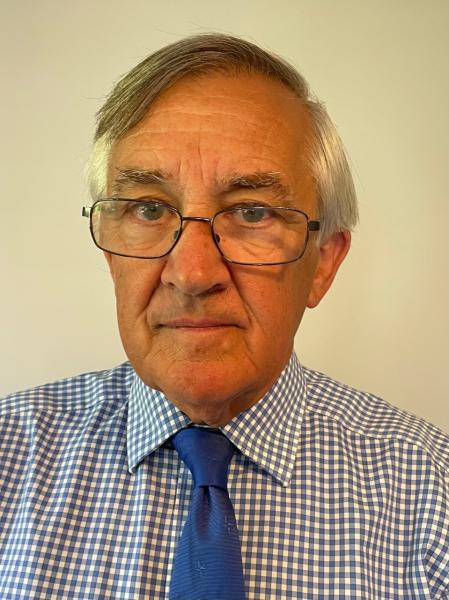 ACE
SIR GERALD HOWARTH
After Bloxham School, Banbury, Sir Gerald Howarth went to Southampton University where he joined the University Air Squadron (managing to fly 120 hours on Chipmunks). Following 12 years in international banking, in 1983 he was elected to Parliament as the MP for Cannock & Burntwood, ending up as Parliamentary Private Secretary to Margaret Thatcher. He lost his seat in 1992 but was almost immediately adopted as the Conservative candidate for Aldershot, Hampshire, where he served as Member of Parliament from 1997-2017. He was Shadow Defence Procurement Minister and then, in 2010, appointed by David Cameron as Minister for International Security Strategy, a post he held until 2012 when he was honoured to be knighted. He was Chairman of the Parliamentary Ukraine and Egypt Committees from 2015-17.
Currently, Sir Gerald is President of the British Air Display Association and of the Historic Aircraft Association, as well as a Trustee of Vulcan to the Sky and the British Forces Foundation. Politically, he continues to be involved in politics as President of Conservative Way Forward and a member of the Council of The Freedom Association and broadcasts regularly on defence and political matters.
Both his parents served in the RAF in World War II. His father as a liaison officer on Lord Mountbatten's staff in South East Asia Command, and his mother as a WAAF, a plotter at RAF Coltishall, who had a lifelong love affair with the Spitfire on which she worked at RAF Rednal and about which she wrote in an article published in 'RAF Parade', entitled "The 'It' in a Spit". Sir Gerald continues to fly as a private pilot as part-owner of a Chipmunk at Farnborough and shares his mother's love affair for Spitfires. He has been privileged to fly one of the 2-seat Spitfires operated at Goodwood - a birthday present from his wife who conspired with Paul Beaver to bring him that fabulous experience. "This wonderful project is close to my heart."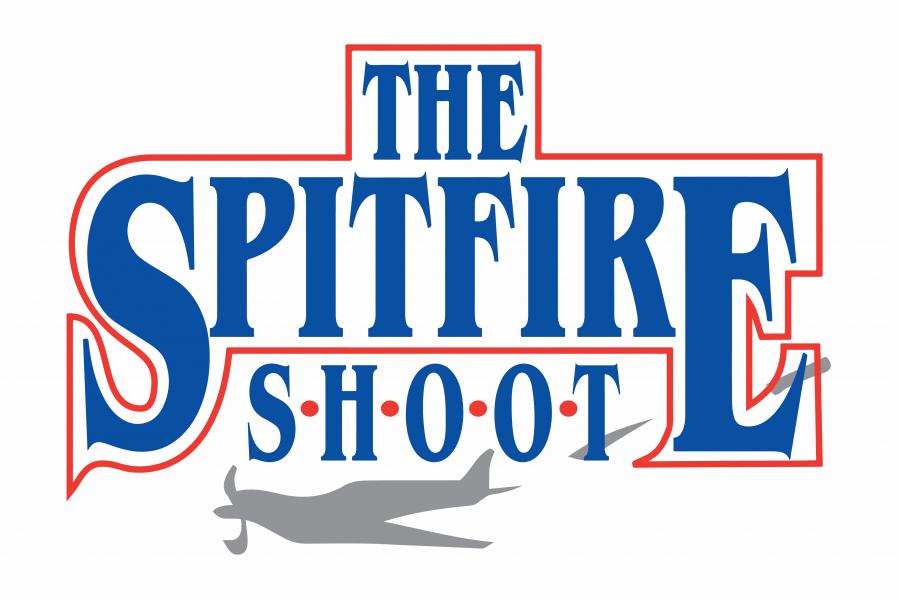 Corporate ACE
SPITFIRE SHOOT
Spitfire Shoot is an award-winning clay pigeon shooting school in the south of England. With a dedicated team of highly trained instructors and a fantastic practice facility there is something there for everyone. The Spitfire Shoot draws its name from their original site, Spitfire wood, where there was a secret production facility for Spitfire parts in the war. Moving to their new site in 2000, keeping the name, which was so close to their heart, the team converted an old pumphouse for the shooting lodge which had previously provided water for the army camp in the war. Fast forward 22 years and the site is now one of the top schools in the south with a fantastic lodge with the old bore hole still on show.
When we contacted the team, they jumped at the opportunity to be on board to support a monument to the Spitfire. Owner Richard Harding said, "We always try to support a number of charities each year, and with our history being so deeply entwined with the Spitfire we couldn't wait to get involved".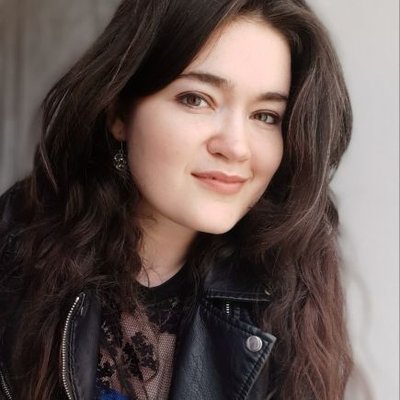 ACE
Victoria Taylor
Dr Victoria Taylor is an award-winning aviation historian who completed her PhD thesis on the Luftwaffe and National Socialism in the Third Reich at the University of Hull. In recognition of this PhD research, she was awarded the 2020 Royal Air Force Museum Doctoral Academic Prize in 2021. She also undertook a Masters In Historical Research (MRes) on Britain's wartime and post-war mythologization of Operation CHASTISE – better known as the 'Dambusters raid' – at Hull, for which she was awarded the Royal Air Force Museum's RAF Centenary Master's Academic Prize in 2019.

Victoria specialises in the history of airpower, aviation, and the public imagination in Britain and Germany during the Second World War. She has contributed to a variety of popular history magazines – such as 'BBC History Extra' and 'Britain at War' – and academic publications alike, along with featuring widely as an aviation expert in programming for the BBC, Channel 5, Sky History, History Hit, the RAF Benevolent Fund, and the Smithsonian Channel. She co-wrote and narrated Season Two of the RAF BF podcast All Stations, which was entitled 'Inside the Battle of Britain', and did the same for 'Spitfire: From The Ashes', a BBC Radio 4 special that delved into the history of Supermarine and its most famous creation.

Victoria sits on the Editorial Board for the Royal Aeronautical Society's Journal of Aeronautical History and is part of its Aeronautical Heritage Specialist Group. Her expertise is also channelled via consultancy work, from working as an Historical Consultant for the Royal Air Force Benevolent Fund's 'Back On The Radar' installation piece and WAAF infographics in 2020, to serving as Project Historian for the Advisory Board of Spitfire AA810 - a cross-party scheme which seeks to restore an original Photographic Reconnaissance Unit Spitfire to the skies.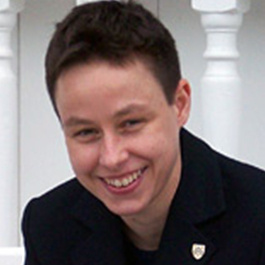 ACE
YVONNE MALAN DPhil (Oxon)
Yvonne Malan was born in South Africa and educated at New College, University of Oxford. Her research interests include post-conflict reconstruction and transitional justice. She is the founder of the prestigious Bram Fischer Memorial Lecture at the University of Oxford. A former Oxford 'Blue', she is a keen runner, cricketer, and boxer.
Yvonne is pleased to join the National Spitfire Project's team of Aces as part of her role to be raising the profile of her relative, the late Group Captain Adolph Gysbert 'Sailor' Malan, DSO & Bar, DFC & Bar. 'Sailor' Malan was one of the most outstanding Spitfire pilots and leaders within the Royal Air Force during the Second World War.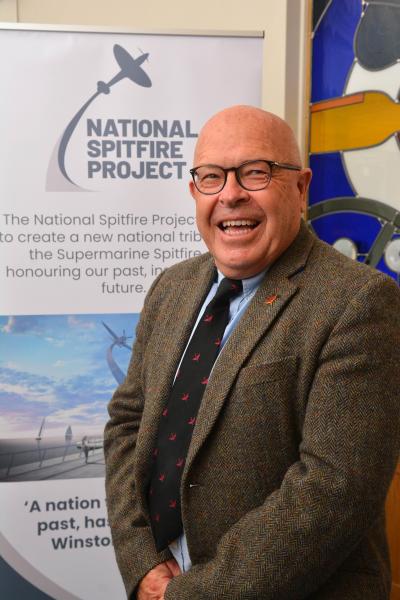 ACE
GUY AUSTIN BSc (Hons) MRICS
Guy Austin is a no-nonsense, passionate, and energetic construction professional with a solid history of achievement in the delivery of major infrastructure projects to time, budget, and quality in both the private and public sectors. For many years, Guy was a proven business leader, being one of the owners of a highly successful, large multi-disciplinary construction consultancy business employing some 550 staff in 10 offices across the UK. Guy retired from that business in 2016 in line with the requirements of the Partnership agreement. Since then, he has made a bad job of retirement, delivering a large project of national strategic importance for the Royal Air Force and is currently leading the delivery of challenging projects for the Aston Martin and RedBull Formula One racing teams, a business sector he has worked in for over 30 years.
Throughout his career Guy has developed strong and enduring relationships, believing this is the foundation for everything he does, both professionally and personally. Guy is a firm believer in strong leadership, building a culture for success and the importance of a cohesive energetic team with shared goals.
Guy is an Honorary Group Captain in 601 (County of London ) Sqn RAuxAF. In his spare time, he enjoys indulging his passion for anything with an internal combustion engine, riding motorbikes, especially in far flung parts of the world. He loves driving his cars - be it his 1944 Willys Jeep or his Aston Martin. Guy always looks forward to spending time at his house in Normandy with his wife, grown up family and grandchildren.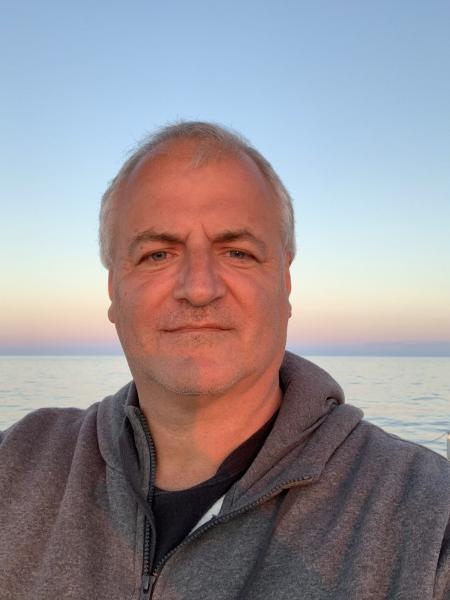 Trustee
Mike James
Mike is a chartered accountant and finance director with diverse sector experience, including in the construction industry, property, sports and leisure, and the events industry. He is proud of having worked in football with two clubs, including a role as Chief Financial Officer of a Premier League football club. Mike and his family have always been based in Southampton and are proud to be a part of and contribute to the community.