The project already has the support of individuals and major businesses who are providing pro bono support to help bring the project to life.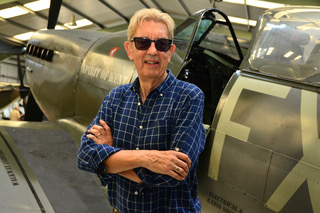 ACE
Paul Beaver FRAeS VR
Paul Beaver is very much a hands-on historian with a pilot's logbook which includes the Spitfire, Harvard and Mustang. He regulars flies the family Cessna and is an authorised civilian and military flying display director. He is a licenced battlefield guide and an acknowledged expert on the Spitfire, the Battle of Britain, the Dambusters raid, naval aviation and current operations.
He has written more than 70 books, including, Spitfire Evolution, which covers all 72 variants of the Spitfire was published on 5th March 2016 to coincide with the 80th anniversary of the maiden flight of the Type 300 which became the Spitfire. He is now working on the Biography of Eric (Winkle) Brown and has completed the first volume of aviation-related cocktails for St Clement-Danes, the central church of the Royal Air Force.
Paul's charity work, besides the National Spitfire Project, includes being a Trustee of the Army Flying Museum and the Billy Fiske Foundation which remembers the first American pilot to die in the Battle of Britain. He is a member of the Aeronautical Heritage committee of the Royal Aeronautical Society. Other memberships include the T E Lawrence Society, the Royal Air Force Historical Society and the Battle of Britain Historical Society.
Paul is a Member of No 601 Squadron, Royal Auxiliary Air Force which traces its history back to before the Battle of Britain. Previously, he had been an
army aviation reservist, retiring in 2013 with the rank of Colonel. From 2014-16, he was Chairman of No 1010 (City of Salisbury) Squadron of the Air Cadet Organisation and retains a strong interest in net zero aviation and education. He leads a series of study days and residential courses on the Spitfire, Biggles, Cecil Lewis and Double Agents for Andante Travels.
Well qualified as a pilot and historian, Paul spent 15 years directly linked to Jane's including Publisher & Editor-in-Chief of Jane's Defence Weekly. He made JDW into a household name in 1990 through his broadcasting during the Liberation of Kuwait and eventually became a freelance war correspondent for Sky News and a studio 'expert' for BBC News and CNN International, for whom he jointly presented the 50th Anniversary of D-Day (from Normandy), VE-Day (from Moscow) and the Hong Kong Handover. He still contributes to broadcast outlets and documentaries.